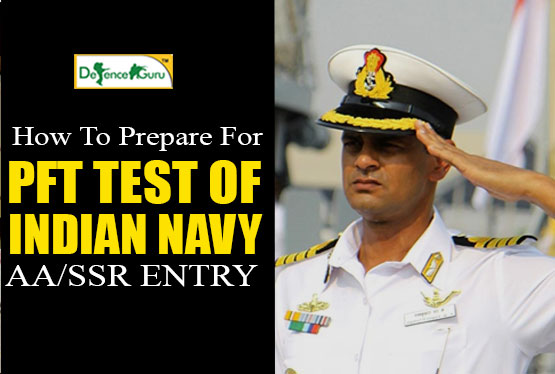 Indian Navy is an integral pillar of Indian Armed Forces. Not only dignified but possessing a plethora of positions and services, Indian Navy is one of the most approached careers these days.
A big crowd yearns to move across the deep blue ocean, wear the white uniform and proudly serve the nation. This field is a perfect mix of living a luxurious life as well as being nation's pride. The prime objective of Indian Navy is to secure India's maritime affairs, combat any threat approaching India and maintaining bi- lateral relations.
While there are numerous ways to join Indian Navy, the procedure of AA/ SSR is our concern today especially from the point of view of PFT round.
Get a little briefing of it first:
SSR and AA are 2 kinds of recruitment in Indian Navy. While SSR stands for non- technical branch, AA is for technical branch.
For both the positions, applicants have to first go through a written exam followed by Physical Fitness Test (PFT).
The SSR written exam is scheduled for 60 minutes. It is objective in nature and the questions range from English, Science, Mathematics and General Awareness.
The AA written exam follows the same time limit, pattern and subjects as that of SSR except that the difficulty level is more due to provision of negative marking. The questions in both the tests rest upon the level of 10+2 education.
Once you qualify the written part you can move ahead with the next level, that is, PFT. When we say Physical it certainly means health and fitness. The same applies here. You must be thinking how is fitness and Navy linked, but it's certainly connected because to serve in any area of Indian Armed Forces one must possess appropriate physical attributes.
So what it consists of? Well in PFT the candidates have to perform 1.6 km run in 7 minutes+ 20 squat+ 10 push-ups. Ahead of PFT there will be a short medical examination. Note that PFT is not mark based, you either qualify it or not.
That said, it's time to execute the above in a planned manner. What I mean is to grab on some tips to easily qualify the Physical Fitness Test. They are listed below:
Indulge into daily physical activity.
Minimum 2 months preparation will be sufficient for performing well in PFT.
Commence with running. Set a target for yourself and steadily increase the distance after few days. Do not take small steps nor stop in between. This is a good opportunity to test your limits and push your boundaries. So elevate your stamina by daily running. Not only will it prepare you for PFT but also rejuvenate your soul and make feel energetic.
Coming to push ups, often in Indian Navy SSR the testing officers ask you to perform Static Pushups which implies that the candidate will have to remain in down position for 10- 20 seconds. Push- ups are a major reason of dropouts of candidates in Indian Navy. Hence you need to have a good hold over this part. Daily do push- ups especially static push- ups upto 6 seconds in up position and 25- 30 seconds in down position.
Squats on the other hand are as easy as a pie if you are already practicing the above. Being physically active and performing routine fitness exercises like the above will automatically groom you for squats. But that does not mean to leave it for the final day. Oh no no, do perform squats daily just like running and pushups.
Looking from a different tangent, fitness and diet go hand in hand. So, to be able to implement the above tips do take care of your dietary habits. Eat healthy, include nutritious food and reduce junk.
Oh and don't forget to stay happy, because being cheerful, energetic and optimistic encourages you to face challenges in life.