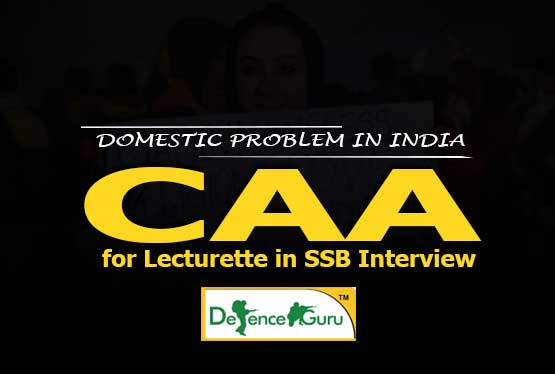 MAJOR REFORM IN INDIA: CAA (Citizenship Amendment Act )
Carrying forward the topic CAA, here is a recent and most burning issue of India: the Citizenship Amendment Act. It possesses high probability to be included in SSB interview and hence a little information about CAA is must. Below are some notable points in this regard:
CAA is elaborated as Citizenship Amendment Act. The term implies bestowal or grant of Indian citizenship to its residents. Its origin can be traced back to 1955 when Indian Constitution passed the Citizenship Act as per which all residents of India will get the citizenship irrespective of religion. The Act saw various amendments such as:
In 2003 the NDA prohibited illegal immigrants to gain citizenship in India. The criterion for illegal immigrants include: citizens of other countries who do not have proper travel documents or their stay extended beyond the permitted time. Since the population of immigrants from Bangladesh was the highest hence they became the centre of this amendment.
In 2014 the Bhartiya Janta Party (BJP) revoked the issue of CAA before the elections for its campaigning and promotion. The party promised to provide natural home for the oppressed Hindus coming from other countries+ it would get Assam rid of Bangladeshis+ Hindus who fled from Bangladesh shall be granted protection+ illegal immigrants get to avail Indian citizenship provided they were refugees and non- Muslims.
Before the 2016 elections, in 2015, the Government: legalized refugees belonging to minority groups from Pakistan and Bangladesh (the minorities included: Hindu, Sikh, Jain, Parsi, Christians and Buddhist) + granted them long- term visa + exempted them from the requirements of Passport Act, 1920 and Foreigners Act, 1946.
In 2019 the BJP government fulfilled its promise by completing the process of updating NRC- National Register of Citizens and expelling most of the "illegal" Bangladeshis from the state of Assam.  The updated register was publicized in August, 2019. Add to that, on11 December, 2019, Indian Home Minister- Amit Shah declared in Rajya Sabha that the NRC shall now be applicable in whole India. The decision included grant of Indian citizenship to Hindu, Sikh, Christian, Jain, Parsi and Buddhist who fled to India from Pakistan, Bangladesh and Afghanistan before 31st December, 2014. As per constitution of these three countries Pakistan, Bangladesh and Afganistan they are Islamic State and Hindu, Sikh, Christian, Jain, Parsi and Buddhist are the minorities are they may be the victim of religious persecution.
Some groups took it in a wrong manner and involved into protest. Those who are the real citizens of India don't have to worry anything as they must be having the valid documents. Showing identity has been mandatory for smooth functioning because there is no guarantee from front end. This act is going to strengthen the genuineness of citizens and it is important for a nation. There have been many intruders who came from Pakistan and committed various terrorist activities. This will be a checkpoint now so such cases will definitely reduce. Although our honorable government has taken various initiatives for counselling people. Door to door campaigning has also been started to make people understand the benefits from act. Its positive results have been seen and protesters are now agreed with it. There has been a political agenda too so many opponent parties have taken the religious faith factor and manipulated them for the protest. Lack of information has irked the communities for protest. We appreciate the initiatives taken by our honorable government to maintain law and order in country.
With this an overview of CAA and NRC gets complete and being a Defence aspirant you must mark it important for the Lecturette round hence read it well, prepare it well and give your best performance.