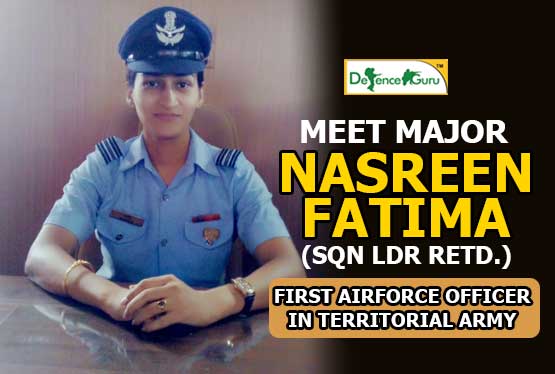 Major Nasreen Fatima (Squadron leader Retd.)  stands as an inspiration for today's youth especially those aspiring to join Indian Armed Forces. Amongst her many achievements the recent one that has added another feather in  her cap is her appointment as the first lady Officer from the Indian Air Force in the Territorial Army.
Dreams do come true but there is a heap of hard work involved in turning them real. She had a childhood dream to join Indian Army as an Officer. Her familial background added more wings to this dream .
The Officer has an impressive academic profile. She joined Army Public School, Nehru road, Lucknow for her schooling and passed it out with flying colours. She further pursued Master's in English  Literature as well as Post graduation in Business Management.
Carrying her dream forward Major Nasreen Fatima (Squadron leader Retd.)  got commissioned  in Indian Air Force as an Short Service Commissioned Officer in Education Branch. The Officer worked in various Airforce Establishments/Units and Training Institutes. This brought a sea change  in her perception towards education and her interest grew more in the educational field which in turn  motivated her to  join The Centurion Defence Academy, A unit of Centurion Education Private Ltd, A pioneer Institute  in the field of preparation  and training for the Armed forces exams.
As an Academic head of Centurion Defence Academy, she has been instrumental in shaping young aspirants mind to join Indian Armed forces. Through her efforts the Officer has been striving to help the aspirants to cherish their dreams which she never let herself forget.
Crossing many barriers finally the day arrived when she got enlisted in Territorial Army. The dream since school days came true with undying efforts and hard work of this highly talented Officer.
Her parents stood as a support as well as a pillar of constant motivation. Her mother especially dedicated her crucial time and support. Finally with determination and hardwork , she today is an epitome of valor and pride  for each of us. Heartiest congratulations to Major Nasreen Fatima (Squadron leader Retd.)