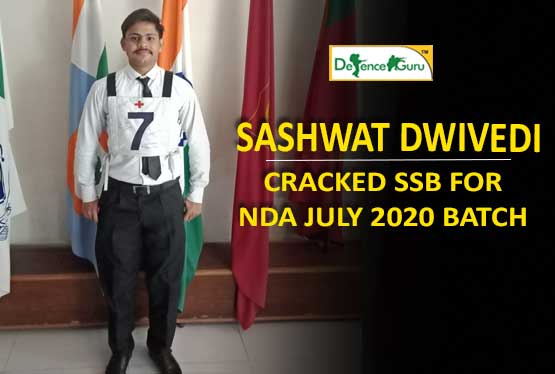 A perfect village boy who got recommended in Indian Army amid sucking taunts of villagers who are groaning noises in his mind.
Key Highlights:
- Recommended in 6th attempt from 18 SSB Allahabad Board.
- Formerly left job in Air Force X group (2018) and Navy AA/SSR (2019) and presently recommended in Indian Army (2020).
- A student of Kailawn Village in Unnao district to an Indian Army Officer journey.
The world will come and find you in a village, town, metro city where ever you live in, if you had it within you nobody can pass without observing you. I Sashwat Dwivedi lived in a small village Kailawn, Bighapur, Unnao district in a joint family along with my father Pramod Dwivedi, mother Pragya Dwivedi and younger sister. Initially the term army was introduced in my life by my grandfather who was in Indian Army. The way he dressed up in an Army uniform, his body posture, disciplined life, bravery, courage & respect he received in village motivates me to be an Indian Army officer.
The recommendation I got from 18 SSB Allahabad Board on 7th February, 2020 in 6th attempt had exalted the power and prestige of my family and village. The enthusiasm and dedication for my success lies in the challenges I faced every time from the society regarding the social status or belongingness to village had never let me down. Being an Unnao student I usually come up with negative comments like son of officers are selected and special ones are recommended for these position only and not guys like me. I hailed the challenges one by one after cracking Air Force X group in 2018 and Navy AA/SSR in 2019 in a row but did not choose to accept the offer letter as I had set my mind to join Indian Army by cracking NDA exam and SSB Interview. Despite all such nasty comments today I am successful and recognized in this area.
The question that do you have it in you keep me going every time and when I visited Centurion Defence Academy for the first time I surrendered to this coaching completely. The most important factor between students and coaching is communication which is well established and frequent in Centurion Defence Academy during my whole journey. Reviews from social sites for defence coaching made my way to Lucknow in Centurion Defence Academy. A person with a universal mind who lived in Indian Armed Forces know the world much better than a person with a local mind and same was my experience with Shishir Sir, Founder Director & Psychology Expert of Centurion Defence Academy at every phase of SSB Interview from screening, group discussions, interviews. I acknowledged Sir's Psychology classes mentioning that initially psychology was difficult and challenging for me but later it became my strength and is going to rest forever in my life.
SSB Interview for 5 days was scheduled on 3rd February in Allahabad Centre where I was allotted Chest No.-11 for my representation in the centre.
Day 1st Screening with OIR & PPDT test on 3rd February where I catch up to attempt all OIR questions, wrote a simple story, fairly participated in group discussion and drafted final group story.
Day 2nd Psychology and Interview on the same day was scheduled. For 4 Psychology tests the special assistance of Shishir Sir in deciding how to do, what to do, psychology tips had assisted me in taking strong and positive decisions. As I have practiced a lot in academy for all my Psychology tests I attempted 48 SRT, 60 WAT in allotted time. With the help of Shishir Sir my SD was already prepared that gave me time to come back in completing my 2 or 3 remaining WAT sentences.
The Interview went for 25 minutes where the questions were basically related to PIQ and general awareness. Reading current news in newspaper had kept me updated with all the latest current affairs and general knowledge questions. How to perform and communicate during an Interview was performed by us in many Interview sessions of coaching had made me hesitant free and perfect to handle my Interview.
Day 3rd & Day 4th for GTO were lined up where GD, PGT, HGT, FGT, Snake race, Lecturrete, GPE, Individual Obstacles, Command task performed in two days . Previous night group discussion over GTO participation had helped a lot to perform well in all GTO tasks.
Day 5th was Conference day where the result was announced and 4 were recommended. When result was announced I recollected my memories from journey of my life where whole struggle and pain of rejection of 5 times flashed in front of me.
Now the process made me enough strong to face any situation in future. Sometimes, struggle is exactly what we need to be strong as what we could have been in our life. An optimistic approach & Centurion Defence Academy had spread my wings to grab all the opportunities come to my way and I boldly accepted all the challenges like a warrior in the war. To all the aspirants who once rejected should never stop attempting, the number of rejections you face stronger and confident you will become.