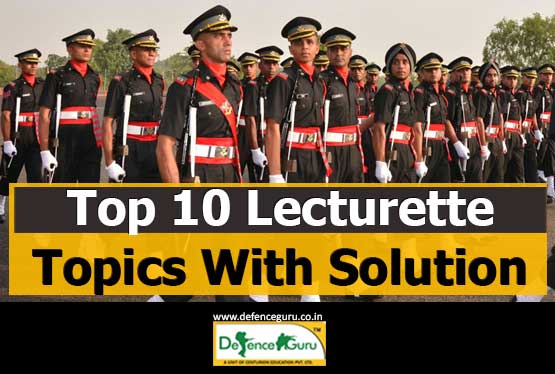 Lecturette topics with solution
Lecturette round in SSB Interview is a measure of personality, expression, facial index, body language, confidence and attitude of the candidate. Herein candidates preparing for SSB are provided with top 10 lecturrete topics with solution, more you challenge yourself more clearly concepts and facts are developed in your mind.
The top 10 current emerging topics in the present scenario tops the most searched charts of the news platforms, competitive examinations, debate and seminars. Research and daily updates with the latest trending topics will help you to showcase the best intellectual skills at SSB.
List of Top 10 Lecturrete topics with solution
1. Climate change
Global climate change is defining issue of our time as the impacts of climate change are global in scope and unprecedented in scale. Change are now occurring from shifting weather patterns that threaten food production, to rising sea levels that increase the risk of flooding, loss of sea ice, accelerated sea level rise and longer more intense heat waves.
Scientists analyzed that global temperatures will continue to rise for decades to come, largely due to greenhouse gases produced by human activities.
According to the World Meteorological Organization (WMO) the world is about one degree Celsius warmer than before widespread industrialization. The Intergovernmental Panel on Climate Change (IPCC), forecasts a temperature rise of 2.5 to 10 degrees Fahrenheit over the next century. Across the globe, the average sea level increased by 3.6mm per year between 2005 and 2015.
Some of the long-term effects of global climate change are many as temperatures will continue to rise, frost-free season (and Growing Season) will lengthen, changes in precipitation patterns, more droughts and heat waves hurricanes will become stronger and more intense, sea level will rise 1-4 feet by 2100, arctic likely to become ice-free.
We need more concrete plans, more ambition from more countries and more businesses. We need all financial institutions, public and private, to choose, once and for all, the green economy." Without drastic action today, adapting to these impacts in the future will be more difficult and costly.
2. Article 370
There has been violence in the state of Jammu and Kashmir - for 30 years due to a separatist insurgency against Indian rule. The article 370 allowed the state a certain amount of autonomy - its own constitution, a separate flag and freedom to make laws. Foreign affairs, defence and communications remained the preserve of the central government. As a result, Jammu and Kashmir could make its own rules relating to permanent residency, ownership of property and fundamental rights. It could also bar Indians from outside the state from purchasing property or settling there.
The GOI stunned everyone by revoking nearly all of Article 370, which 35A is part of and which has been the basis of Kashmir's complex relationship with India for some 70 years. Kashmir will no longer have a separate constitution but will have to abide by the Indian constitution much like any other state. All Indian laws will be automatically applicable to Kashmiris, and people from outside the state will be able to buy property there.
The government says this will bring development to the region. Earlier there were restrictions on transfer of land, it will now lead to growth and employment and private investments in education, health and tourism with investment in tourist infrastructure and hotels that will create more jobs. With PPP model in education the student will not have to travel outside the state.
3. AIDS
AIDS is the most advanced stage of HIV infection once it develops into AIDS, infections and cancer pose a greater risk. By the close of 2015, around 1,122,900 people were HIV-positive. To compare, figures from 2016 show that medical professionals diagnosed AIDS in an estimated 18,160 people.
AIDS varies widely between individuals and depends on many factors including: the age of the individual, the body's ability to defend against HIV, the presence of other infections, the individual's genetic inheritance resistance to certain strains of HIV
The early symptoms of HIV infection may include: fever, chills, joint pain, muscle aches, sore throat, sweats, particularly at night, enlarged glands, a red rash, tiredness, weakness, unintentional weight loss, thrush
Some people with HIV do not show symptoms until months or even years after contracting the virus. However, around 80 percent of people may develop a set of flu-like symptoms known as acute retroviral syndrome around 2–6 weeks after the virus enters the body.
With medications, a person who lives with the disease must take precautions, including the following steps: Wear condoms to prevent other STIs, Receive vaccinations for potential OIs. Discuss these with your primary care physician, Understand the germs in your surrounding environment that could lead to an OI. Limit exposure and take precautions, such as wearing protective gloves while changing litter, Avoid foods that are at risk of contamination, such as undercooked eggs, unpasteurized dairy and fruit juice, or raw seed sprouts, Do not drink water straight from a lake or river or tap water in certain foreign countries, Drink bottled water or use water filters, Ask your doctor about work, home, and vacation activities to limit exposure to potential OIs.
4. My best friend
My best friend is amazing he is there with me when everything is crap never makes me uncomfortable. I think about most of my friends and realize that they've made me feel weird at some point in our friendship. Whether it's from an awkward silence or an off-color remark but with my best friend I always know that I am comfortable in whatever situation I am into. We don't need common interests in order to connect mutual love of music or sports or education keep us connected always.
It's amazing how many people can betray you, or fail to understand the words that are coming out of your mouth. When I see my best friend, it's a burst of reassurance that I'm not the only who looks at the world this way.
5. COVID-19 & its Impact
An ongoing pandemic of coronavirus disease 2019 (COVID‑19), caused by severe acute respiratory syndrome coronavirus 2 (SARS‑CoV‑2). The outbreak was first identified in Wuhan, China, in December 2019. The World Health Organization declared the outbreak a Public Health Emergency of International Concern on 30 January, and a pandemic on 11 March. As of 3 June 2020, more than 6.38 million cases of COVID-19 have been reported in more than 188 countries and territories resulting in more than 380,000 deaths more than 2.73 million people have recovered.
The COVID-19 pandemic is far more than a health crisis: it is affecting societies and econ­omies at their core. While the impact of the pandemic will vary from country to country, it will most likely increase poverty and inequalities at a global scale, making achievement of SDGs even more urgent. Vaccine for COVID-19 is still months to years away people with cancer are twice as likely to die from COVID-19.
The IMF's estimate of the global economy growing at -3 per cent in 2020 is an outcome "far worse" than the 2009 global financial crises. Advanced economies have been hit harder, and together they are expected to grow by -6 per cent in 2020. Emerging markets and developing economies are expected to contract by -1 per cent.
Due to the fall in travel, global industrial activity has been affected. Oil prices fell further in March as the transportation section, which accounts for 60 per cent of the oil demand, was hit due to several countries imposing lockdowns. The demand for industrial metals reduced as factories shut down. IMF projects a decrease in food prices by 2.6 per cent in 2020, caused by supply chain disruptions, border delays, food security concerns in regions affected by Covid-19 and export restrictions. In the lockdown period, while the price of cereals, oranges, seafood and arabica coffee has increased, prices of tea, meat, wool and cotton have declined. Further, the decline in oil prices has put a downward pressure on the prices for palm oil, soy oil, sugar and corn.
India reported the first confirmed case of the coronavirus infection on 30 January 2020 in the state of Kerala. In India, Finance Minister NirmalaSitharaman has announced some details of the Atmanirbhar Bharat Abhiyan package, to provide relief to Medium, Small and Micro Enterprises (MSMEs) in the form of an increase in credit guarantees. Many advanced economies in the world have rolled out support packages. While India's economic stimulus package is 10 per cent of its GDP.
China recently lifted its lockdown and has since then been gradually reopening its economy without an aggressive second wave of infections so far. Further, even as economic activity resumes gradually, the situation will take time to normalise, as consumer behaviours change as a result of continued social distancing and uncertainty about how the pandemic will evolve.
6.Hostel Life
One of the biggest change that occurs in the life of most students is shifting to college hostels. The nervousness and anxiety of having to move to a different city and sharing your room with a stranger is the excitement of the freedom that college life offers.
Hostel life is an experience of mixed emotions with the fear of ragging, the fight for food, the longer nights and no reason to party needed in hostel. In Hostel you meet different people from all over the world and accompany with stranger roommate. A place where you learn how to manage scarcity of money and who you can trust someone or cannot. Dull life with sheer excitement is a hosteller life.
7. Indo-China Relationship
India and China have significant areas of cooperation both in the bilateral and multilateral arenas despite emerging retaliation after the Doklam standoff in 2017
China is increasingly concerned about India's strategic tilt towards the US and the consequences it has for India's access to high technology and high-end defence equipment. India's growing economy, its importance to China as a trading partner, its role in Asia centric governance institutions such as the Asian Infrastructure Investment Bank and the BRICS Bank, and its accretion of strategic capital through its strategic partnerships, make it an important Asian interlocutor from China's point of view.
External circumstances and summit level diplomacy appear to have stabilised India-China relations. At present India has been careful not to blame China for the coronavirus or its spread. However, there remains a strong undercurrent of mutual distrust between the two countries. There have been incidents involving Indian and Chinese troops in past weeks. It would appear that the fragile equilibrium of India China ties has an uncertain future.
8. Indo-Pak Relationship
Major Indo-Pakistani wars in 1947 and 1965, and a limited war in 1999 and a fragile cease-fire since 2003 across the contested border Line of Control sparks heated history between India and Pakistan relationship.
Momentum toward meaningful talks came to an end in September 2016, when armed militants attacked a remote Indian Army base in Uri killing eighteen Indian soldiers later resulted in September 2016, the Indian military "surgical strikes" on terrorist camps inside Pakistani-controlled territory.
Pakistan identified as an epicenter of terrorism and religious extremism has never come up purely out clean with its deeds on national front and therefore India-Pak relationship regional stability, integrity and dignity is always remain a hot topic of discussion.
9. Government Schemes
Over the years, the Indian government several schemes have helped Indian citizens improve their financial situations, and contributed to the country's economy.
Pradhan Mantri Jan Dhan Yojana (PMJDY)- The National Mission on Financial Inclusion to all the households in the country by providing universal access to banking facilities with at least one basic bank account to every household, financial literacy, access to credit, insurance and pension facility.
Pradhan Mantri Jeevan Jyoti Bima Yojana- The PMJJBY is available to people in the age group of 18 to 50 years having a bank account who give their consent to join / enable auto-debit. The life cover of Rs. 2 lakh is for the one year period Risk coverage under this scheme is for Rs. 2 lakh in case of death of the insured, due to any reason.
Pradhan Mantri Suraksha Bima Yojana (PMSBY)- The Scheme is available to people in the age group 18 to 70 years with a bank account who give their consent to join / enable auto-debit The risk coverage under the scheme is Rs. 2 lakh for accidental death and full disability and Rs. 1 lakh for partial disability.
Atal Pension Yojana - APY is open to all saving bank/post office saving bank account holders in the age group of 18 to 40 years and the contributions differ, based on pension amount chosen. Subscribers would receive the guaranteed minimum monthly pension of Rs. 1,000 or Rs. 2,000 or Rs. 3,000 or Rs. 4,000 or Rs. 5,000 at the age of 60 years.
Pradhan Mantri Mudra Yojana- Loan of upto Rs. 50,000 is given under sub-scheme 'Shishu'; between Rs. 50,000 to 5.0 Lakhs under sub-scheme 'Kishore'; and between 5.0 Lakhs to 10.0 Lakhs under sub-scheme 'Tarun'.
10. Triple Talaq
The Muslim Personal Law (Shariat) Application Act of 1937 had legalised and allowed the practice of Triple Talaq which gave a Muslim husband special privileges over his wife. However Triple Talaq, also known as Muslim Women (Protection of Rights on Marriage) Bill, 2019, was passed by the Indian Parliament as a law on July 30, 2019, to make instant Triple Talaq a criminal, cognisable and non-bailable offence.
The new law is the eventual outcome of a high-profile court case filed in 2016 by Shayara Bano, a Muslim woman who fell victim to talaq-i-biddat, or "triple-talaq." In a landmark 2017 judgment, India's supreme court declared talaq-i-biddat invalid and unconstitutional, and instructed the government to legislate.
The law is highly controversial because it criminalises the practice of talaq-i-biddat, thereby it means that any husband pronouncing triple-talaq, whether spoken, written or electronic, can be punished with a fine and three-year jail term. Arrests can be made without a warrant, and bail is given only at the discretion of a magistrate. And the law applies retrospectively back to September 2018, meaning that earlier transgressions can now be filed with the police.
Ordinary Muslim women, believes this law may empower women and embolden them against perpetual threats from their husbands.
The above listed topics for SSB lecturrete are very important for all the candidates who are going for SSB in upcoming weeks or months or years. Extract the most of it and explore various dimensions to excel. Good luck!
Read More
Know About SSB Lecturette Procedure