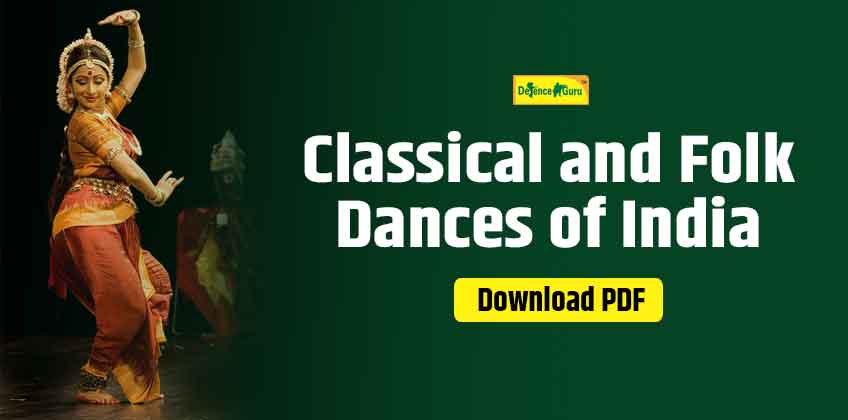 List of Classical and Folk Dances of Different States in India
India is known for its rich cultural heritage and traditions. Dance is a part of life from ancient times to the most cultured communities. Generally, dance forms in India are classified into two categories namely classical and folk dance. Indian folk and tribal dances are simple and are performed to express joy during the arrival of seasons, the birth of a child, weddings, and festivals. Each form of Folk Dance has a specific costume & rhythm and some costumes are very colourful with extensive jewels and designs. Here is the List of various State Classical and folk dances of India which help in various examinations like NDA, CDS, AFCAT, Airforce, MNS and other Exams.
India has many dances, coming from every state in the country, although there are only six forms of the classical dances recognised by India on a national level. They are Bharatnatyam, Kathak, Kathakali, Manipuri, Kuchipudi, and Odissi. The folk dances of India are much more than mere body movements, from the very ancient times the classical dance forms of India is considered as a discipline and a way to devote yourself to God through art. Folk art is the common possession of a group of people or a particular locality. The identity of the originators is forgotten, but the style is preserved down the ages.
Check the list below of Classical dances of different States in India
| Classical Dance | State |
| --- | --- |
| Bharat Natyam | Tamilnadu |
| Kathakali | Kerala |
| Mohini Attam | Kerala |
| Odissi | Orissa |
| Kuchipudi | Andhra Pradesh |
| Manipuri | Manipur |
| Kathak | North India mainly U.P. |
| Sattriya | Assam |
Check the list below of folk dances of different States in India
| Folk Dances | State |
| --- | --- |
| Jhumar | Rajasthan |
| Garba | Gujarat |
| Giddha | Punjab |
| Bhangra | Punjab |
| Yakshagana | Karnataka |
| Mayurbhanj Chau | Orissa |
| Purulia Chau | West Bengal |
| Tamasha | Maharashtra |
| Lavani | Maharashtra |
| Kalbelia | Rajasthan |
| Bihu | Assam |
| Kachhi Ghodhi | Rajasthan |
| Rouff | Jammu and Kashmir |
| Raut Nach | Chhattisgarh |
| Karakattam | Tamil Nadu |
| Hojagiri | Tripura |
Download Classical and folk dances of India PDF