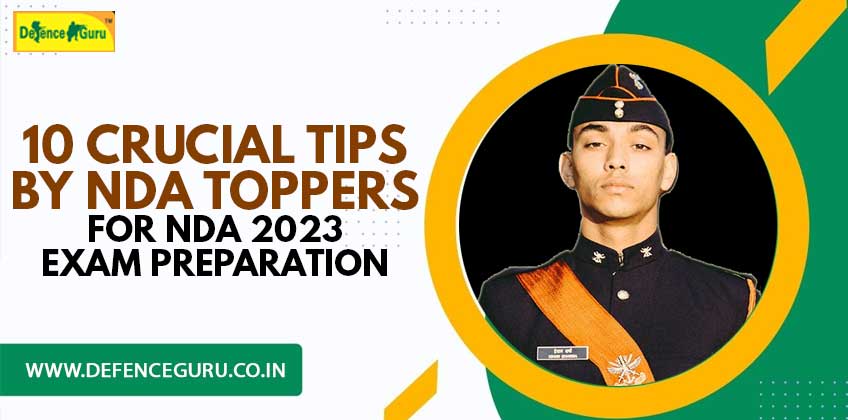 NDA Exam is considered to be one of the toughest exams in India and the extensive syllabus of the NDA Exam takes this toughness to another high level. NDA Exam is conducted by UPSC for selecting Candidates for the National Defence Academy where they will undergo four years of extensive training in which they learn about academics, sports, adventurous activities, and military tactics.
NDA Exam is the best opportunity for both Male and Female Aspirants who want to make their career in the Armed Forces as an officer. NDA Exam is so popular among youth that they leave even selections in JEE to join NDA. It is completely normal when it comes to opportunities offered through NDA. NDA offers a chance to serve our country, wear the glorious uniform of the Armed Forces and live a life of a Hero.
Ten Crucial Tips by NDA Toppers for NDA 2023 Exam Preparation-
Syllabus is the Key to success in NDA 2023
Knowing the Syllabus is very important for clearing any exam. The syllabus will help you to find out what topics should be prepared for the NDA Exam and what topics should be avoided.
Previous Year Question Papers are the best guide
Previous Year Question Papers help us to know about the level of difficulty and nature of questions. Candidates should go through previous years' question papers of the last five years to get a clear understanding of the NDA Exam.
Study Limited Study Material
Candidates should keep their study material limited and should not read bulky books. Candidates can refer to concise and accurate study material from Centurion Defence Academy. This material has been helpful for hundreds of students in clearing the NDA Exam.
Make Concise Notes on Important Topics
Making Concise Notes on Important Topics is very helpful in revision. Candidates can make short notes of important geographical terms, articles of the constitution, and mathematical formulas.
Do multiple revisions
Doing multiple revisions of important topics is very important for NDA Exam. NDA Exam covers general studies part also and requires lots of revisions. Candidates should keep on revising grammar rules, vocabulary, and articles of the constitution.
Read Newspaper regularly
Reading newspapers regularly helps not only in current affairs but also in keeping you updated for SSB. Candidates should read one good national newspaper preferably The Hindu or Indian Express.
Solve Mock Tests
Solving Multiple Mock Tests is very important for NDA 2023 Exam. Mock Tests help you to know your level of preparation and improve your speed and accuracy. Candidates should solve multiple mock tests before going for NDA 2023 Exam.
Keep Revising Grammar Rules and Vocabulary
Grammar and Vocabulary are very important parts of English section in the GAT paper. Candidates should keep revising grammar rules and practice questions on them. Candidates should keep memorizing vocabulary also otherwise they will not be able to cover it properly.
Improve Communication Skills for SSB
SSB is the most important stage for qualifying NDA 2023 Exam and to qualify for SSB you need good communication skills. That's why It is advised to NDA Aspirants that they should work on their communication skills.
Improve Physical Fitness and Stamina
Good Physical is a precondition for a career in the Armed Forces and NDA is no exception. Good Physical Fitness is required for doing GTO tasks and passing medical tests. Candidates should develop positive habits for good physical fitness.
Centurion Defence Academy is a top-ranking coaching Institute for NDA preparation. Centurion Defence Academy is known for its record selections in NDA Exam. In the latest NDA-149 course, Centurion Defence Academy has given 18 selections and out of 18 selections, 11 are boys and 7 are girls. If you want to make your NDA-Dream a reality, Join Centurion Defence Academy today.
Read More About
NDA GAT Syllabus and Chapter Wise Weightage
5 Best NDA SSB Coaching in India 2022
Top 10 SSB Coaching Institutes in India
Top Five NDA Coaching in India