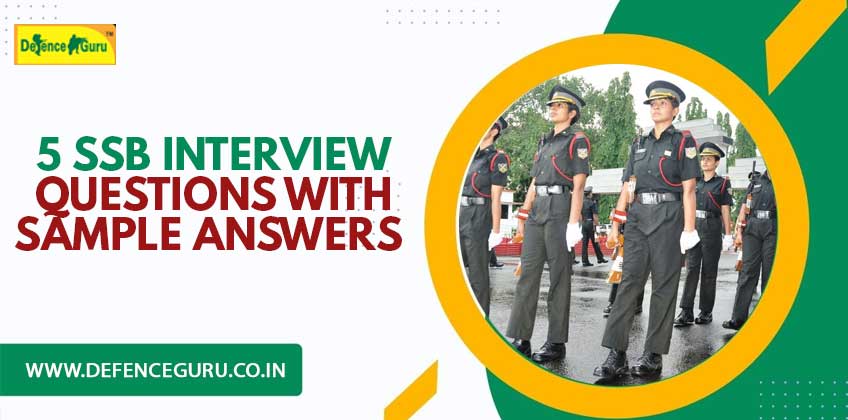 5 SSB Interview Questions With Sample Answers and Tips
SSB Interview is a day assessment process where candidates are assessed through various psychological and physical tests. SSB Interview is based on the philosophy of 'मनसा वाचा कर्मणा' which is Mind, Speech, and Actions. Assessors at the service selection board assess you on these three parameters. These three parameters can be further elaborated into 14 parameters which are known as OLQs or Officer Like Qualities. SSB Interview is conducted in two stages. In the first stage- OIR (Officer Intelligence Rating) Test and PPDT (Picture Perception and Description Test) are conducted. In the second stage- Psychology Tests, GTO Tests, and Personal Interview are conducted.
Personal Interview in SSB
Personal Interview in SSB is conducted either on the third day or the fourth day of SSB. This interview is conducted by either president or deputy president of the board. In Personal Interview, questions from candidates' PIQ Form. During Personal Interview, Questions are asked mostly on hobbies, interests, education and family background etc.
5 SSB Interview Questions With Sample Answers and Tips
We are providing you with Five SSB Questions with Sample Answers so that you can get an idea of what types of questions are asked in SSB and how you should answer them.
Question-1 Why do you want to join the Armed Forces?
Answer- Sir/Mam…There are very good career options before me but Career in Armed Forces offers an adventurous lifestyle, social prestige, and a glorious uniform that is not available anywhere else. A career in the Armed Forces offers various other benefits also such as security of tenure, independent decision-making, and most importantly a chance to serve the country.
Question-2 Why is there a downfall in your marks after the 12th class?
Answer- Sir/Mam…After My 12th Class, I started focusing on Football which is my hobby. I used to represent my college as captain in Football Matches which is why I used to get less time to focus on my studies. I am making a proper routine so that I can manage my game and studies simultaneously. I am also trying hard to improve my marks.
Question-3 What is your biggest weakness?
Answer- Sir/Mam…My biggest weakness is forgetting the names of people. Sometimes, I feel embarrassed that I forget the names of people. I am working to remember the names of people by focusing more on them. I also try to repeat the names of people I meet multiple times so that I can remember their names.
Question-4 How do you keep yourself physically fit and healthy?
Answer- Sir/Mam…I am a regular football player. Playing football on a regular basis helps me to keep physically fit and healthy. I also go jogging every morning to keep myself fit and healthy.
Question-5 Tell me five things that you can do with this pen other than writing?
Answer- Sir/Mam…Firstly, I can use this pen to make a hole in something. Secondly, I can use this pen as a weapon. Thirdly, I can use this pen to measure the area of anything as this pen is around 12 cm. Fourthly, I can use this pen as a straw. Lastly, I can use this pen as a small pipe.
Tips for SSB Personal Interview
Interviewing Officers expect you to be updated with whatever is happening around you. Candidates should read any good newspaper daily to keep themselves updated.
Good Communication involves active listening
A good communicator should not just be a good speaker but also an active listener also. Candidates should actively listen to whatever the Interviewing officer says and answer accordingly.
Some Questions are asked to trap you
Some questions like 'Why there is a downfall in your marks', 'What are your weaknesses', 'How is your relationship with your girlfriend/boyfriend' etc. Candidates should answer such questions by thinking twice. Candidates should not be too open during the personal interview.
Stay Positive and Answer Confidently
Candidates should not look too serious during a personal interview and always answer confidently. Candidates should keep in mind that they should give even a wrong answer confidently and stick to the answer.
Prepare your PIQ Form very well
PIQ Form is going to be the basis of your personal interview. Candidates should prepare PIQ Form very well. Candidates fill this form very carefully and properly. Candidates should not try to put false information in their PIQ Form.
Read More About
5 Best NDA SSB Coaching in India 2022
Top 10 SSB Coaching Institutes in India