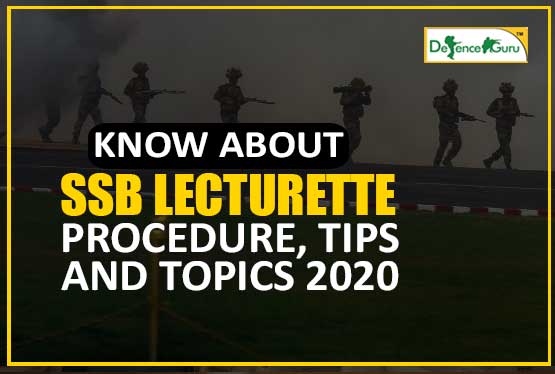 SSB LECTURETTE PROCEDURE
SSB is an exhaustive, lengthy, challenging and perhaps the most interesting interview of Defence entrance exams. It is a litmus test to assess Officer like qualities of the applicants. If you possess the required skill and talent then the path to Defence is all open for you!
SSB incorporates a bunch of tests amongst which Lecturette is the simplest. Below is an in- depth explanation of this round:
The literary meaning of Lecturette is 'little talk'. As implied by the name and the literal meaning lecturette round demands a candidate to speak up on the given topic.
The aim of conducting Lecturette round is to examine the personality of a candidate, his confidence, verbal skills and his knowledge graph.
Coming on to the procedure of SSB Lecturette, here are the details:
It is a part of group task conducted by the GTO Officer.
Herein, candidates are divided into certain groups.
Candidates are called one by one to take the clue card wherein 4 topics are given. The topics range from social, economic, political topics or current affairs. Once the candidate has selected his topic he gets 3 minutes time to prepare a speech on it.
After three minutes the candidate comes in front of the group members, gives his self introduction briefly and begins his speech.
Meanwhile another candidate is called to choose a topic and prepare his content.
Take care of the following notions when it comes to SSB Lecturette:
✔️ Keep your introduction precise and basic. Do not narrate your whole biography. Simply tell your name, current job/ course pursuing, parent's profession, place of residence and hobby. Listen to GTO carefully, he will brief the pattern. One has to be very particular to the given instructions by GTO.
✔️ Understand the viewpoint of conducting Officers. They want to check your expression, body language, language fluency, confidence, knowledge and personality. Hence deliver a good performance by keeping the above parameters in mind.
✔️ Outline the topic in some headings and it is suggested to deliver the content as per those divided sub headings only. It makes the audience more connected and attentive. It is useful for the candidate as well because he is clear with points he has to cover. Generally it goes like meaning of the topic, present scenario, positive aspects of the same, negative aspects and its creative solution, futuristic aspects and conclusion.
✔️ Candidate is notified with a ring at 2 minutes 30 seconds. It is the time a candidate should move on for a successful and confident conclusion. The impression created at the beginning of the topic has a lot of relevance with its ending as well. If the conclusion is not on time and is with haphazardness, it leaves a bad impression. So it is suggested to move on it right after listing the bell so that you can get ample span of time for a meaningful and motivated conclusion.
✔️ Body language plays a major role. It is suggested to stand straight, chin up position. One should look agile and focused on the given topic. Deliver with passion, considering that you are given the opportunity just because you deserve it and explain with a curiosity to connect them with given topic. Your passion makes it worth listening and expressions also motivate listeners. Inferiority complex must be avoided so try to have more and more practice sessions for the same. Things taken in practice makes you more creative. Maintain proper eye contact with the audience and in result you will get a boost in the form of their attention.
✔️ Spend quality time in crafting the content. A sincere approach always results in systematic performance. There are many topics about which candidates need to know and collect required statistic as well. It adds on quality to the topic.
✔️ Be comfortable in your skin. Be confident in your overall presentation including dressing sense, gestures and postures. Thinking of one's appearance while delivering the content might distract the speaker and listeners may also lose their attention. Before going for presentation, one final observation is to be made.
✔️ Develop your communication skills. One should have a good command on the language for presentation. Develop a smooth familiarization with the language so that such problems do not occur. The medium for communication should be undoubtedly strong i.e. language. Hindi is other mother tongue so one feels comfortable in it; similar level of acquaintance is to be brought in communication.
➤ CAA 2019
➤ Environmental degradation
➤ Climate change
➤ India- China relationship
➤ Abrogation of Article 370
➤ Women empowerment
➤ Indian Army
➤ Girl child
➤ Naxalism
➤ Impact of social media on youth
➤ Green house effect
➤ Economic slowdown in India
➤ Pollution
➤ India- U.S relationship
The list is never ending but you need not panic. In lecturette round you just have to give a short and meaningful speech on the given topic. Hence gather some general points on each social topic and follow current affairs to be updated. Believe in yourself and proceed with confidence.
Read More: 100 Top Lecturette Topics For SSB Interview