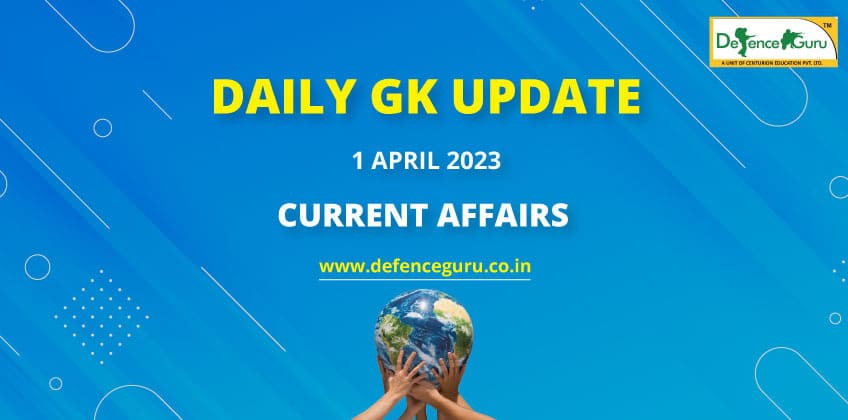 Daily GK Update - 1st April 2023 Current Affairs
Defence Guru is a dedicated platform to provide DailyCurrent Affairs Updates to Defence Aspirants. Our Daily Current Affairs Update covers National Affairs, International Affairs, Economy, Sports, Awards and Honours, Books, Appointments, etc. You can follow us for regular current affairs updates. Current Affairs cover almost 15-20% of all defence exam syllabus. That's why It becomes very important for Defence Aspirants to cover Daily Current Affairs Updates. Our Current Affairs Update is accurate, reliable, and useful for every defence exam and other exams in India.
Current Affairs

National Affairs

A new version of Omicron has been discovered in India.

'XBB.1.16' is the new variant of omicron in India.
This new variant is responsible for the spike in cases in India.

Kangra Tea which is grown in Himachal Pradesh has been given GI Tag by Europe.

Kangra Tea is a unique tea grown in Himachal Pradesh at heights of 900-1400 meters.
This tea requires rainfall of 270-350 cm rainfall.
This tea is grown at Dhauladhar Moutain Range.

40% of India's 594,000 villages are now declared as open defecation plus villages.

Open Defecation Free Plus Villages have proper arrangements for Solid and Liquid Waste Management.
ODF+ Status is declared by Gram Panchayats under Swachh Bharat Mission.

International Affairs

China and Japan decide to set a hotline between both countries.

This hotline is being set up before the important visit of Japanese Prime Minister Yoshimasa Hayashi to China.
This hotline will help both countries to manage air and maritime activities by both countries.

Former American President Donald Trump has been convicted in Hush Money Case.

According to Court, Donald Trump had misused his power and transferred money unlawfully.

Finland becomes the 31st Member of NATO.

The North Atlantic Treaty Organization, also called the North Atlantic Alliance, is an intergovernmental military alliance between 30 member states – 28 European and two North American.
Now Finland has become its 31st member.

NATO

Full Name- North Atlantic Treaty Organisation
Founded On- 4th April 1949.
Headquarter- Brussels, Belgium

Economy

Rates on Small Saving Schemes has been hiked by 10-70 basic points by the Monetary Policy Committee of RBI.

Small savings schemes are designed to provide safe and attractive investment options to the public and at the same time to mobilise resources for development.
The Monetary Policy Committee (MPC) is a committee constituted by the Central Government and led by the Governor of RBI. Monetary Policy Committee was formed with the mission of fixing the benchmark policy interest rate (repo rate) to restrain inflation within a particular target level.

Books and Authors

'Why Can't Elephants be Red?' has been written by Vani Tripathi Tikoo.

The book is about a two-and-a-half-year-old girl named Akku who is imaginative, adventurous, and growing up in Gurgaon and Singapore.

Obituary

Sahitya Akademi Award Winner Sarah Thomas has passed away.

Sarah Thomas was an Indian Malayalam language writer from Kerala. Her novel Narmadi Pudava won the Kerala Sahitya Akademi Award in the year 1979. Thomas was also a recipient of the Kerala Sahitya Akademi Award for Overall Contribution to Malayalam Literature.

Sports

Gujrat Titans defeated Chennai Super Kings in the first match of the Indian Premier League 2023.

Shubhman Gill was the man of the match who scored 63 Runs for Gujrat Titans.
Read Me:
Daily GK Update - 31st March 2023 Current Affairs
Daily GK Update - 30th March 2023 Current Affairs