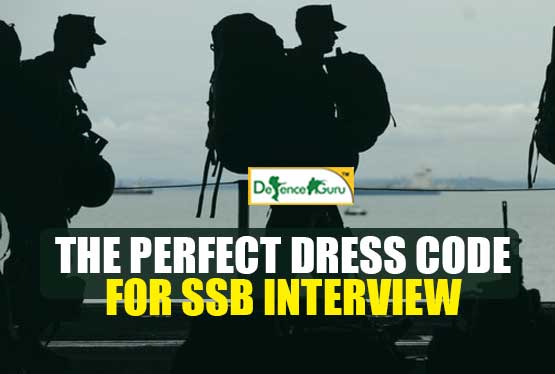 DRESS CODE FOR SSB INTERVIEW
First impression is the last impression!
Often the above saying has proven itself right. First impression does hold a huge value in creating a long- lasting impact. Not involving a lengthy list of items, your impression demands only 2 essentials: dress and behavior!
When talking about SSB interview, many of the candidates neglect this side of creating a good impression. Apart from academic and physical preparation, a good personality and appearance is also crucial in SSB after all you are going as a would- be- Defence Officer, carry some standard. Keeping this requirement in mind, I break down to you all the details of the dress code required for SSB interview:
As per the official notification the dress must fall in the following range:
S/No

Item

Gents

Ladies

Remarks

1

Dark colour trouser and light colour shirt

1 set

1 set*

*Suits/Sarees permissible

2

Shoes

2 pair

2 pair

Formal and Sports

3

Neck tie

1

1

Optional

4

Winter wear

1

1

Seasonal requirement during winter

5

White shorts & T-shirts

1 set

–

For GTO tests

6

Track suit

1*

2 set**

* For winters only

** For GTO
Since this is an era of mix and match and everyone is a fasionista so try out these combos to look your best:
Beginning with the day you have to report, wear formals such as: light colored t- shirt with dark trousers and formal shoes. Tie is optional but suggested as it adds class to your personality.
For GTO round get a sporty combination dress, that is, white t- shirt and shorts with sports shoes or a track suit.
On the final day, that is, the conference round, the same dress code is applicable as that of screening. Just add a blazer and a tie to look more formal.
Dresses adorn your personality. There is no requirement of lavish clothes in SSB, just keep it simple and descent.