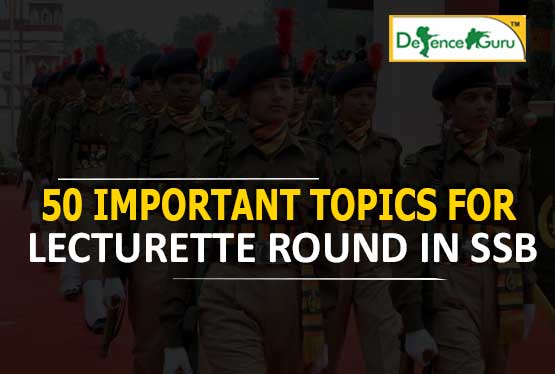 50 Important Lecturette Topics for SSB Interview
How you say is as important as what you say.
Channeling similar thought of line personality and knowledge are given equal importance in Defence exams. While knowledge is tested through written exams personality is being assessed through various rounds included in SSB interview, one of which is the Lecturette round.
As implied from the name, Lecturette is about giving a lecture. Here the candidates are provided with 4 topics whereas they have to select one of it and render a speech on it. The time given to prepare is 3 minutes. The underlining aim behind Lecturette is to examine personality, speech, confidence and knowledge of an applicant. Lecturette is quite personal in nature as the candidate does not have to indulge in a group discussion rather he has to personally narrate the speech to the Officers. Once the preparatory time of 3 minutes is over the Officer calls the candidate and takes a quick- general interview with basic questions like name, place of residence, qualification, family etc. Once a connection has been set between the Officer and the candidate he is asked to commence his narration.
The topics given for Lecturette are general in nature dealing with socio- religious- political- economic problems and current affairs. Here is a collection of 50 important topics for Lecturette:
1. CAA
2. Indian foreign policy
3. SAARC
4. Indian Armed Forces
5. Economic slowdown in India
6. Ayodhya conflict
7. Ranks in I.A.F
8. Climate change
9. Upgradation of Indian Defence system
10. Corruption
11. Illiteracy in India
12. Pollution
13. Indian Army
14. Chandrayaan 2
15. Indo- China relationship
16. Sports in India
17. Indo- pak relationship
18. Kashmir crisis
19. Abolition of article 370
20. Terrorism
21. Naxalism
22. Apache helicopter
23. 5 year BJP government
24. How to resolve unemployment in India
25. Indian Navy
26. Uniform Civil Code
27. UNO
28. GST: Pros and Cons
29. AIDS
30. Dowry system
31. Disaster management
32. Foreign investment in India
33. Dokhlam issue
34. Swine flu and Ebola
35. Beef ban
36. Rape
37. Globalization
38. Increased use of technology
39. E- commerce
40. Women empowerment
41. Indian Air Force
42. Role of social media
43. Democracy in India
44. Safety of women
45. Mangalyan
46. Drug abuse
47. String of Pearls
48. Domestic violence
49. Gender inequality
50. Make in India
If you want a wholesome preparation and positive outcome then note the above list and get ready with a good speech on each topic. Remember that topics could be inter- related hence while preparing for 1 topic gather notes on any essential term that you come across.
Keep in mind that your speech must have an introduction- body- conclusion. Be clear, be audible and try to support your content with facts. Keep yourself updated with recent activities so as to increase your general awareness, and to add glow to your performance keep your confidence high!
Read More
Most Important Lecturette Topics For SSB
100 Top Lecturette Topics For SSB Interview
How to Prepare for Lecturette in SSB