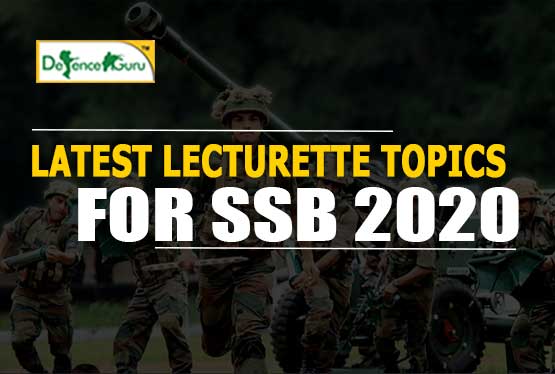 Essential Lecturette Topics in SSB
"Whatever words we utter should be chosen with care for people will hear them, understand and be influenced by them for good or ill." As this quote goes it clearly connotes the fact that channeling a thought and giving it an expression in the form of a speech or a talk examines the personality of the individual therefore as implied similar is the notion behind the Lecturette round that forms an indispensable part of the SSB. Definitely this test is a measure of the personality of the candidate, their expressions, facial index, body language, confidence and attitude because it is in here the candidate has the liberty to impress the GTO by presenting his/ her positive personality.
Herein the candidates are provided with 4 topics and the candidates are at liberty and ease at selecting any one of the topics and render a speech on the same. The timestamp for preparation is of 3 minutes. This task is very similar to an extempore as you have to organize and channel your thoughts on any particular topic. The defining aim of this test is to assess the personality, communication and fluency, confidence and obviously knowledge because being knowledgeable will always have an upper hand on the performance so always be information savvy with all the current affairs and ongoing events.
Lecturette Introduction
Before commencing the Lecturette the GTO will ask the candidates to give brief introduction before the actual session begins, in this candidates have to ponder on the following :
- Name
- Where are you From?
- Hobbies
- Parent's profession
- What you are currently doing (Studying/Job)?
Essential Tips for SSB Lecturette Test
- Be knowledge savvy and proficient with the latest topics and burning issues of in and around the world.
- Be at ease and have a confident attitude while delivering the lecturette with full agility.
- Have a control over unnecessary body movements and maintain a firm posture with positive body language.
- Have good communication skills as it will enable you to render an uninterrupted speech with fluency and confidence.
- Have a good diction and accurate pronunciation to articulate your ideas and thoughts in an impressive manner.
- Keep a check on the pause and breaks while delivering your lecturette as it affects the tempo of your speech while rendering the same.
- Follow a sequential approach while delivering the lecture to present a clear and concise idea of your topic.
- Be socially active as this enhances the information as well as communication skills making you more confident and equally aware of your surroundings.
- Avoid any grammatical mistakes as they are easily noticeable and leave a bad impression.
Latest SSB Lecturette topics
The topics dealt in Lecturette comprise of a general nature and deal mainly with socio- religious- political- economic problems and current affairs. Here is a collection of some prime topics considered to be the most relevant for Lecturette-
Lokpal
RBI and Economic Growth
Agricultural or Farm Crisis in India
Current & future prospect of Indian economy
Digital Economy
Ayodhya Verdict
Cybercrime
Kashmir unrest & dispute
US withdrawals from various International alliances
India Nepal Border Dispute
E-waste Clinic
Non Performing Assets
Uniform Civil Code
Ayodhya Dispute
Global Warming
Donald Trump
India Bangladesh Relations
Nuclear Weapon
Chandrayaan I
Oil Crisis
Ayushman Bharat – PMJAY Scheme
Environment Performance Index
Women Safety
Cyber Security
Election funding
Cryptocurrency
Rural Women Empowerment
Jobless growth in India
Extreme Weather and Health Hazards
Police Reforms in India
India's air pollution
Decriminalization of Politics
Iran nuclear deal
AFSPA - Armed Forces Special Power Act
National Register of Citizens (NRC)
Ease of Doing Business
European Geopolitics
US & China Trade rift
Data Protection - Technology and Privacy
#MeToo Movement in India
BIMSTEC Summit
Climate Change
India & Shanghai Cooperation Organisation (SCO)
Interstate water disputes
Artificial Intelligence
Triple Talaq Bill
Issues concerning Elections in India
Impact of Social Media
Increasing Heat Waves
Swachh Bharat Mission
Juvenile Crime
Biotechnology
Indian Foreign Policy
Make in India
Global warming
Naxalism
Kashmir war crisis
India Pakistan relationship
Child marriage
Defence Budget
Special act of Armed Forces
Nuclear energy
Indo- Russian relation
Chandrayan 2
Net neutrality
Article 370
Hockey in India
Bharat Ratna
Terrorism
E- commerce.
The above listed topics for SSB lecturette are very important for all candidates who are going for SSB in upcoming weeks or months or years, as this list is regularly updated to match the current pattern of the SSB. Hence, it is requested to keep checking this list and follow upon all the current events and updates so as to keep abreast and be prepared beforehand. Remember the world is filled with plethora of happenings so jot down all the incidents by interlinking their related notions as well and work in the present moment to reap future benefits. Goodluck and all the best !!!
Read More
25 common Lecturette Topics for SSB Interview
Most Important Lecturette Topics For SSB
Know About SSB Lecturette Procedure