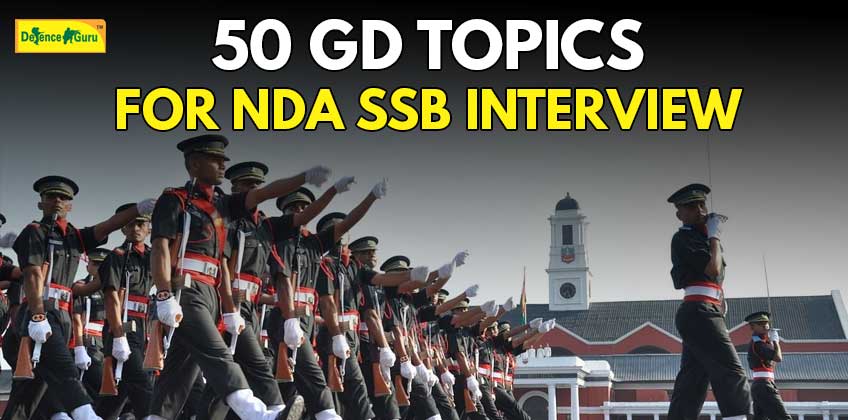 50 GD (Group Discussion) Topics for NDA SSB Interview - Check Latest GD Topics
One of the essential assessments in the SSB interview process is the group discussion or GD for short. On Day 3 of the SSB interview, the Group Testing Officer (GTO) will administer the group discussion test as one of the tasks. The applicants are given two topics to debate back-to-back as part of the group discussion. Significant national, global, economic, and current affairs issues are all covered. It is obvious that you must be prepared in advance and have a solid understanding of a variety of topics. In this article, we'll look at 50 of the latest and most important GD topics for the NDA SSB Interview as well as provide a general introduction to group discussion.
A group conversation is a great method to show how knowledgeable you are about contemporary issues and current trends, as well as how aware you are of the events taking place all around you. It is a procedure where you have the chance to formally express your thoughts and opinions on certain issues, sometimes even ones that are disputed. Therefore, it ought to be obvious to state that you should be well-versed in a wide range of topics as listed below in order to be ready for group discussion in the NDA SSB interview. But first, let's look at some of the fundamental components of group discussions in SSB interviews.
Make a positive impression on the officer
Throughout the discussion, your position should remain straight and comfortable. When you have the chance to start a conversation, do it since it will make a positive impact on the officer who is assessing your conduct, mental attentiveness, thought process, and overall attitude. Maintain eye contact with everyone in the group; this will give you more opportunities to talk.
Do valuing other people's thoughts
Stick to your thoughts firmly while also appreciating the ideas of others to be strong while remaining humble. As an SSB candidate, you should keep in mind that because this is a group discussion, you will be evaluated on a collective level. As a result, you should be both outspoken and listening. Make sure that people are looking at you as you respond to others' opinions; this is another approach to be spotted by the assessor.
Before speaking, give it some thought
Remember that you are being observed and evaluated, so avoid making the same argument repeatedly. Also, consider your words carefully before speaking. When the group conversation is taking place, try including some real-world data along with some sincere opinions. Put up your ideas, but avoid fighting or arguing with other members of the group in order to ensure a constructive group discussion.
Expressing your ideas in a responsible manner
If you are unfamiliar with the topic, do not be intimidated; instead, attempt to pay attention to others in a constructive manner for a while. This will enable you to quickly form your own opinions. You should remember that group discussions are not just about spreading information; they are also about sharing your opinions on the subject. As a result, make sure you create the discipline of not only consuming the newspaper but also analyzing information about central concerns.
50 Most Important GD Topics for NDA SSB Interview
India's Defence exports

Women in Armed Forces

Atmanirbhar Bharat in the Defence

NATO's role in International relations

Sri Lanka's economic crisis

India @ 75

Role of Media in Democracy

Russia-Ukraine war

Uniform Civil Code

Unification of the Indian Armed Forces

Global Refugee Crisis

Major Government Schemes

Pros & Cons of Drone Technology

Quad vs BRICS

Post-Covid world

Artificial Intelligence

The emergence of Electric Vehicles

Modernisation of armed forces

Fit India Movement

Coastal security of India

Military Leadership

India – Russia relations

Appointment of Chief of Defence Staff (CDS)

India's Digital Currency

BIMSTEC

Defence Expo 2022

e-RUPI: Merits and Demerits

Regionalism vs Nationalism

Criminalization of politics

India-US relations

India-China relations

India's foreign policy

Youth empowerment

Role of the UN in Peacekeeping

The problem of unemployment

Women empowerment

Indigenous Defence Production

S-400 Missiles Systems

India – Pakistan relations

AFSPA and its applications

India as a developing country.

Freebie politics in India

Role of India in the United Nations

Industrial Revolution 4.0

UNFCCC - COP -27

Reservations based on economic status

Impact of fake news on society

India as a permanent seat in UNSC

Concept of a cashless society

United Nations and the Climate Change
Read More About
How To Prepare For SSB Interview
NDA 2022 SSB Interview Questions and Answers
5 Days SSB Interview Procedure Details
WAT Practice Sets for SSB Interview Preparation
5 Best NDA SSB Coaching in India 2022
Top 10 SSB Coaching Institutes in India
Top Five NDA Coaching in India