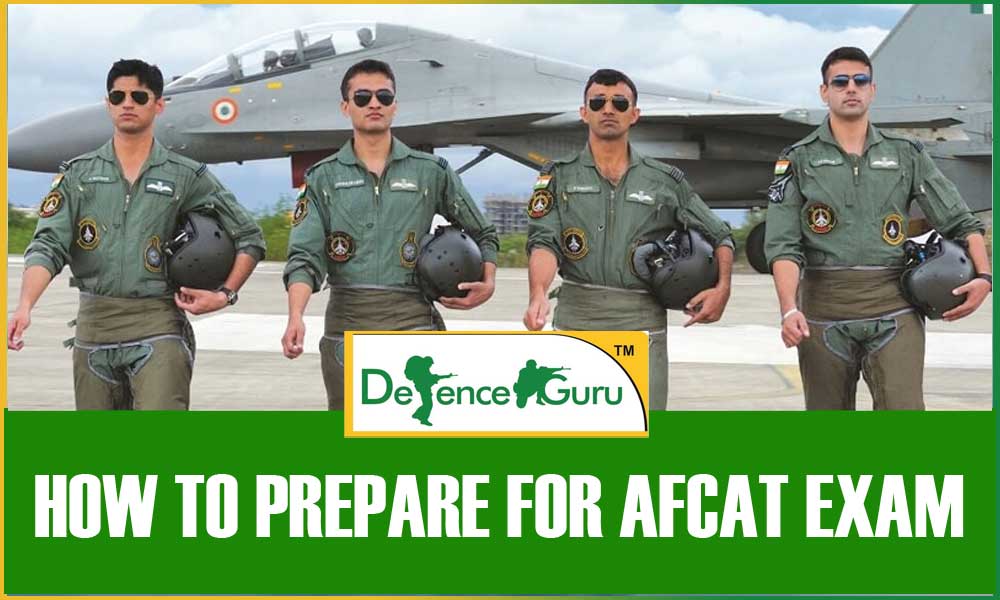 How to Prepare for AFCAT Exam 2020
Candidates who have applied for AFCAT, looking forward for AFCAT can start their AFCAT Exam Preparation as soon as possible. As we all know clearing AFCAT exam is not a cake walk, if you want to clear the AFCAT exam, you have to get a good score which will also help you to get in the final merit list of Indian air force. Just clearing the AFCAT cut off marks won't help you either. In past few years we have seen the merit list of Indian air force, you could hardly find 100 candidates getting merit in. So the better option is to prepare for the AFCAT exam with a proper planning. You should aim to get at least 200 marks out of 300.Getting more marks in AFCAT is not difficult and can be done easily with proper planning.

Here are some best ways to make your AFCAT exam preparation Easy -
Go Through AFCAT syllabus: First of all, do some research on what AFCAT exam is. Serious candidates must know the syllabus of afcat, types of questions you will face in afcat, afcat maximum marks, afcat previous cut off marks, difficult and easiest sections in afcat question papers etc. These small things will help you to make a plan for your preparation. Most of the candidates neglect this part, but make sure you do proper homework on this part.

Slove AFCAT previous question papers: This is one of the best way to prepare for the AFCAT exam, you will be surprised that few questions might come fromAFCAT previous question papers.

Buy A AFCAT Practice Book: If you want to go beyond and solving previous question papers is not enough for you, buy a good afcat exam book online. Solve as many as questions you can.

Do Decisions on incorrect Questions: There are many candidates miss out AFCAT exam with few marks, try to make a better decision as to how much questions you have to answer correctly to pass the exam. If we look at the past few years afcat cut off, you can easily say that the afcat exam cut off remains between 125-130 marks. Let us assume you have to score minimum 130 marks, for that you have to answer minimum 44 question correctly without answering a question wrong. So it is very simple, you can easily score 44 questions correctly as every section has 25 questions each. If you prepare for two sections perfectly, you could easliy score around 150 marks. Avoid guessing answers when you are not sure.

Maintain Speed and Accuracy: In AFCAT exam speed matters, you have to complete 100 questions in 2 hours. There are few sections where you need just 65 secs to answer a questions, you are are right, general knowledge sections is something you can do with speed, another sections is English, these sections do not take much time to solve because you either know the answer or you don't. Mathematics and Military aptitude will definitely take more time. So plan accordingly.

Best Patterns to Solve the AFCAT question paper:
1) Maths Military, Aptitude, English, GK [If you Maths is strong]
2) GK, English, Apptitude, Maths [If you are weak in Maths]
AFCAT Exam Written Test
There are total 100 questions in the written entrance paper and each question carries three marks. The questions are in multiple-choice format. The subjects covered include General Awareness, Numerical Ability, Verbal Ability in English, and Reasoning and Military Aptitude Test. The time allotted for completion of this paper is 2 hours. There is also negative marking of 1 mark for every wrong answer.
Preparing for the AFCAT Written Test
Knowing the syllabus well is the most important thing.
Do not ignore any part of the syllabus as questions can come from any part of the syllabus.
Start practicing from the last few years' AFCAT question papers, as they will give you an idea of the exam pattern.
Maintain the time limit while solving questions, as speed is the very foundation of the exam.
Prepare notes on topics that seem difficult and revise them regularly.
For General Awareness, it is important to follow current events and news in magazines and newspapers.
Read more to increase your English verbal ability and vocabulary.
In the exam hall, attempt the known questions first as this will boost your confidence. After completing all the known questions, try the unknown and tougher ones.
SSB Interview and Screening Test
On clearing the written examination, the candidate has to appear in the next phase of interviews and aptitude tests. This is the most important part of the AFCAT exam.
Attending AFSB (Air Force Selection Board) interview: There are various segments in the AFSB interview and the whole process takes about 6 days to complete. Various traits of candidates are checked to see if they are fit for the posts they have applied for.
Screening test: There are two tests in this group - Rating test, which includes Picture Perception and Description Test (PPDT), and Officer's Intelligence Test.
Psychological tests: Various kinds of tests are carried out to check the amount of pressure a candidate can take successfully.
Group tasks: Various kinds of tasks are assigned to different groups. This test spans for two days.
Interview with the President of the Board or a senior member
Conference - the final result
Preparing for the various AFCAT Tests
Be strong mentally. If you don't lose your confidence throughout the process, you're halfway there.
Practice writing on anything that you see. This will help you in the screening and psychological test where you will need to write on a picture shown for just 30 seconds.
Pay great attention to your body language in story narration and group tasks. This will also be helpful in the interview and conference part.
Concentrate on overall personality development as it is the main key to success in the AFCAT exam.
Read More About
AFCAT 2020 Exam Notification
Top 5 AFCAT Coaching in Lucknow
Golden Tips for AFCAT Written Exam