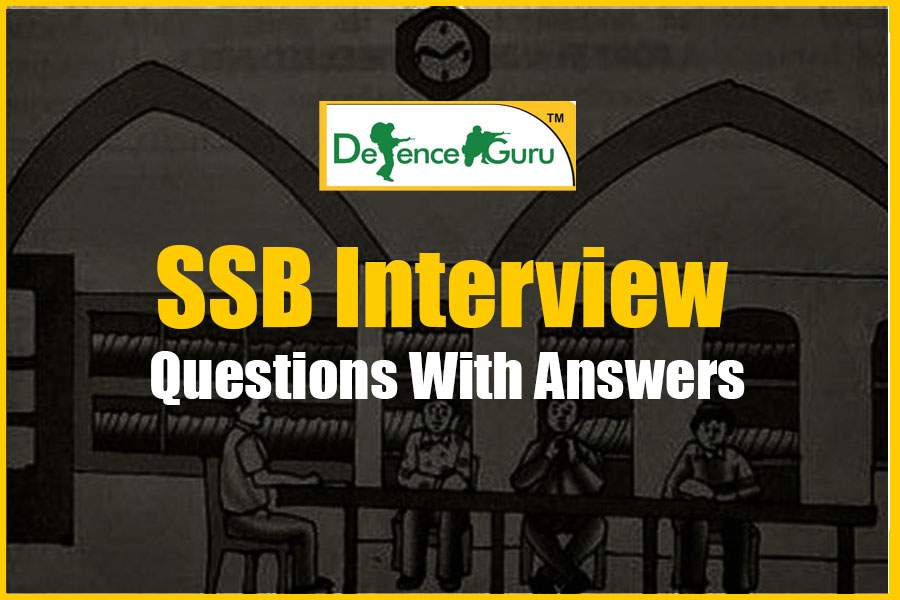 SSB Interview Questions With Answers
We will give you some sample Common SSB interview questions with Answers. You Should Always prepare for the Personal Interview before attending SSB Interview because you know the type of question generally asked by the Interviewing Officer. Below are few questions which you may face during your SSB Interview.Â
If you are still studying:
Why didn't you try for SSB after 12th through NDA?
Ans: This answer basically depends on your own self reasoning. For e.g. if you say you tried, then you might be asked why didn't you clear your written/SSB. If you say you didn't then you might be asked what made you interested in defence now.
If you couldn't join the armed forces, what are your alternate career/study options?
Ans. Now, this is a tricky question. Many candidates tend to stick to the point that they will make it or they don't want to join anything else apart from defence. Let's be real here you need to have a backup plan, if you don't have one, get one and say it.
Tell the competitive exams that you have appeared in chronological order.
Ans. Tell him all the exams that you appeared for, its outcome, what were the setbacks of you were not able to clear it and why were you not able to clear it, if you had taken entrance coaching.
Tell me the marks you scored starting from your 10th till date and any special achievements in them. Also, tell me about any extra-curricular activities that you have been a part of during this time.
Ans. You need to know your marks from the beginning. This is important because starting from 10th, everything was a turning point in your life till your graduation. So, you must be knowing your 10th marks, 12th marks, and marks of all the years of graduation, preferably, semester-wise.
Do you smoke or drink?
Ans. This is tricky, specially if you are going for 10+2 entries or if you are a Muslim in specific. While you are under-age to consume alcohol while in 10+2 entry, you are not allowed by religion and culture if you are a Muslim. Here, if you say that you do drink in these cases, you will be judged. Similarly, if you say that you smoke, be known that it is a bad habit, get rid of it.
If you've completed your studies:
Why are you not working anywhere? How are you surviving without a job?
Ans. If you couldn't crack a college placement, tell them the reason you were not upto the selection level, you had different options, you had less percentage to attend the placement whatever, just be frank but also do tell how you overcame that. You could also say that I am now freelancing, even if you are doing any sort of help without pay that relates to your skill and could say that now I am looking for a job.
What do you hate about your current job/why do you want to leave your current job?
Ans. If you already have a job, do not bitch about it and say why you hate it. It is bad manners. If you are thinking to leave your current job, do tell valid reasons but not like – manager is not good, or I couldn't cope up with the work hours. You could say that I am looking for growth in my field. If you don't plan to leave your job, just say that you like your job but joining defence is you passion and is always your first priority.
How have you prepared for your SSB/have you taken any coaching?
Ans. If you have taken any SSB coaching, do tell but not upto the point that you know each and everything about SSB. You might be asked what have you learnt in the coaching. Tell that you had an overview of how SSB is conducted and how to perform. The catch is that, do not let them know that you know about SSB assessment procedure, in case you do.
If you couldn't not make it this time, then what will you do?
Ans. Be ready for a future plan. Not just in this answer, but for your life also. If you don't have a future plan, you are not officer enough to get recommended.
Tell me the name of your girlfriend/boyfriend, 2 best friends and what 3 qualities you like/dislike in them.
Ans. This is again a tricky question. You might be asked to tell them their weaknesses and with the flow when you start criticizing them, ask yourself this question why are you still with them when they are having these weak qualities? A person would be your friend if you see they do not lack any quality that your ideal friend must posses. A little here and there is okay. I hope you get the idea.
Whom do you love more among dad or mom and why?
Ans. This is a natural question but you have to be reasonable for what you are going to respond. You could say I love them both equally from the bottom of my heart. If the IO still insists that you say whom do you love most, you can cite an example and give valid reasons for it, like Sir, as I said I love them both equally, but since I get to spend more time with my mother, because my father is on his job/duty, I share more with her. But as soon as my father gets back home, I share with him too. But my mother is mostly the first one to know anything about me.
Why do you want to join the defence?
Ans. Sir, I have the following reasons to join the defence - I am very passionate about it; I am passionate about flying; I want to lead a physically active lifestyle; I love adventures, owing to my NCC training/other activities. The defence will offer me all these.
Tell me your 5 strengths and 5 weaknesses?
Ans. Again, you need to be very blunt about it, except that if you say that you lack any of the OLQs, it might be a problem for you. For e.g., you can say I know my responsibilities very well and I follow them religiously; I can work very well under pressure; I am a motivator and a good public speaker; I know my potential and weaknesses very well; I am good in management skills and I am resourceful person/jugaadu person. As for weaknesses, you might say I am a procrastinator (but I have made a 2-minute rule to overcome it); I am a lazy person (but now I am following a time table religiously, which makes me less lazier than before); I am aggressive (but I am meditating regularly and I am now more calm and composed than before); I tend to be overconfident sometimes (which I am now able to mostly control and I am more humble now); Overthinking (I am now just making a plan, anticipating future possibilities and just going for it without much more thoughts).
What is your daily routine and what do you do in your spare time?
Ans. (This is just an example, it may vary, respond accordingly) Sir, I wake up daily at 7 in the morning, fresh-up, buy milk and eggs, fill water in the tanks and bottles (and wash clothes if it's a Sunday), drop my sister to school, take bath, have breakfast, read newspaper, do some household chores, goto office/college, come back in the evening, follow-up with some home-tasks and goto sleep 11.30-12.00
What is your pocket money/salary and how do you spend it?
Ans. Sir, I earn 4,500 per month of my part time job. I give 1,500 to my sister for her expenses, I save 500 per month, spend 1,500 on petrol and recharges, spend 1,000 by buying something I like or with friends, mostly on adventure experiences rather than dining-out.
Questions regarding your native place and state.
Ans. Know your native place well, the famous areas, dishes and places of important interests. For e.g. Sir, I am from Hyderabad, the joint capital of AP and Telangana. Hyderabad is famous for its biryani, nawabiyat and of course, Charminar. There are many places of national importance in and around Hyderabad like Arty Centre, EME Center, AOC Center, Air Force Academy, College of Air Warfare, National Police Academy, Helicopter Training School, Fighter Training Wing, Navigation Training School, etc.
Questions related to social issues, GK and current affairs.
Ans. You must be aware of the recent happenings and social issues. You must also have your views and opinions to these issues.
Technical questions or field-related questions.
Ans. If you are a graduate, the, you are expected to know something related to your field.
Questions related to the armed forces.
Ans. You must know about the organisation which you want to join. Questions can be like, tell me the ranks, commands, formations, etc.
Okay, now I have asked a lot of questions from you, do you want to ask any question to me?
Ans. This question was asked to me when I was a fresher and I was straight upto the point – Sir, is there anything in my PIQ that bothers you regarding my selection, or is there any quality in me you say that I am lacking that will hold me back from joining the defence forces? The second question which I asked was Sir, how can I join the aviation corps after my training?
NOTE- Apart from these, there could be some specific questions related to your socio-economic background, caste and religion?
Read More About -